Exciting news! My new tabletop roleplaying game, The Well of All Fear, is out now! It's a Call of Cthulhu game set in the Regency period, and takes place at the spa town of Buxton, England.
When Mr Millwood, cad-about-town and local ne'er-do-well, goes missing in April 1813, his young sister has the most to lose. Miss Millwood's fear for her brother is only exacerbated by her own terror; if he were found dead, the family estate would be inherited by a distant relative, leaving the unmarried Miss Millwood destitute.
But the young rake has made many enemies in town. From bathhouses to gambling halls, balls to ancient ruins, investigators must track down the missing brother and determine who wishes him gone. In tracking down the young man, investigators must make a costly sacrifice to save the tourist town.
As you can probably tell, there's as much Georgette Heyer in this game as Jane Austen. The game draws on Celtic and Roman mythology from the area, and I've gone to a lot of effort to include historical detail from the period for keepers and players.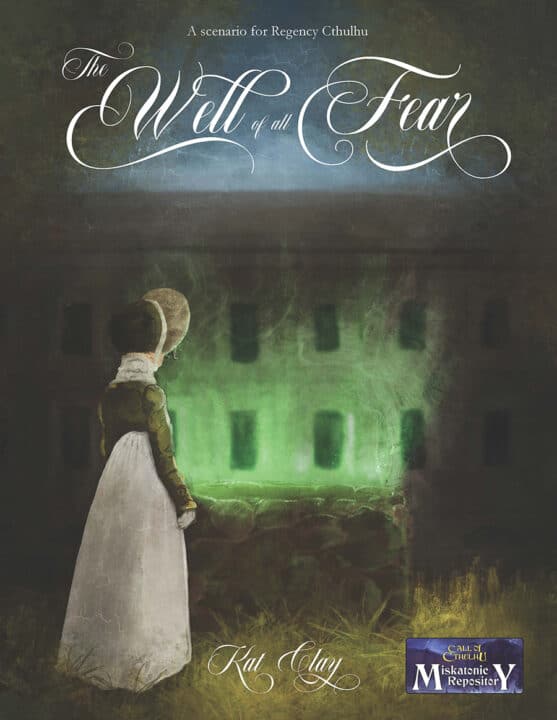 I've been working on this game since January – writing, making maps and handouts, and playtesting. But I'm so pleased at how it's turned out. If you've played my previous game, The Hammersmith Haunting, it's a lot bigger, clocking in around 80 pages (and that's not including the player character sheets!). It took me around seven hours to run the game for my friends, so it's a good one to run over a couple of sessions.
This game package includes:
A 68 page scenario full of risk and mystery!
18 maps and handouts
Five diverse, pre-generated character sheets
An accessible text version in a Word document
So what are you waiting for? You can buy a copy over at DriveThruRPG at the link below. Buying my game keeps me writing more games, and we all want more games! I really hope you enjoy playing The Well of All Fear.